BOERenmarkt XL
Discover, taste and experience the culinary food festival.
Let yourself be surprised by all the wonderful things that the provinces have to offer at the BOERenmarkt XL! At this market, visitors discover the various artisan farmers and (wine) suppliers of Jonnie and Thérèse Boer and fellow restaurants.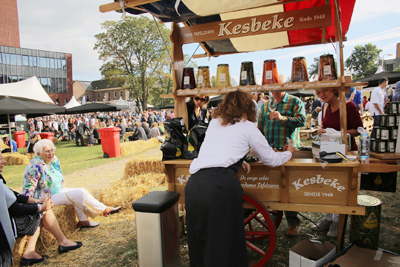 During your visit to the BOERenmarkt XL, you will get to know the rich range of products and ingredients from Dutch soil in an easy and accessible way. Restaurants from all provinces are here to show you and let you have a taste of what the Netherlands has to offer. Each restaurateur will serve a dish(vegetables, wine, meat, etc.) together with his farmer.
However, there is much more to see and to experience during the BOERenmarkt XL! On a special tour boat, tasting trips are arranged, which can be attended free of charge, and there are also exclusive wine and whiskey tastings. During the Cheese war workshop, you will learn to pair cheese with wine or beer. De Koperen Kees (the restaurant of Theater De Spiegel) is transformed into Brass Boer, the beach restaurant of Jonnie & Thérèse on Bonaire. With local and international dishes they will give a tropical touch to the BOERenmarkt XL.
Of course, a festival like BOERenmarkt XL cannot lack spectacular cooking competitions. In the HillBilly Contest, 6 young talents will compete against each other in a spectacular cook-off. On Sunday, they will go out with a map to collect all kinds of ingredients from the region. On Monday they will prepare two dishes with these ingredients, including two ingredients that are typical of their region during the cook-off. Or the VanDrie Group cooking challenge, which focuses on veal, in which students from ROC Sterrenklas Amsterdam, Cas Spijkers Academy and ROC Friese Poort will compete against each other.