Beer, Cheese & Wine
In coöperation with: Bourgondisch Lifestyle, Bier & Co and Smaragd Wijnen.
A magnificent tasting with cheese, beer and wine.
Contemporary gastronomy often thinks about and works with (fortified) wine when combining cheese. Still, beer and cheese is a classic combination that has been forgotten for too long. In summary: Bourgondisch Lifestyle, Librije's cheese supplier from Beverwijk, chooses beautiful cheeses. Smaragd Wijnen looks for a perfect wine with every cheese and Rick Kempen from Bier&Co a perfect beer. The participant will taste all combinations and choose the tastiest combination according to him or her for each cheese.
Cheese war: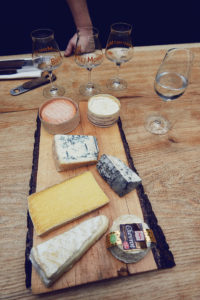 According to the classical rules of higher gastronomy, wine is usually consumed with food. Wine is a drink with complexity and great depth, and an endless variety in taste. The trick is to find a wonderful balance in the taste composition between the wine and the dish, the wine pairing. But why shouldn't that be possible with beer? The "cheese war" is a game originally invented by an American beer brewer. A cheese selection is devised in advance. One party selects the beers, the other the wines. By tasting, a "winner" is chosen. Of course, it is not about the winner in this "war", but about broadening the horizon and finding new, surprising combinations.
Participation only based on registration via the registration desk on the site, max. 20 participants per tasting.